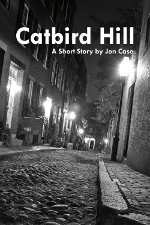 A brutal murder sets a neighborhood on edge—except for Iris Figg, one resident who seems to take it in stride. Can she restore tranquility to the community?
Available only for e-readers.
Fear flooded our small neighborhood the spring Bethany Jane Milford was violently murdered in her second-floor bedroom. The peace and affability our neat little neighborhood had established and enjoyed over the past few years was squashed and replaced with dread and suspicion. Within days after the unnerving event we reverted to the frightened, distrusting souls who lived here a dozen years ago when it was a ghetto of dilapidated and abandoned houses. Only now, instead of cowering in dark rooms behind shuttered windows and bolted doors, we hid in our crisp historically renovated homes with lights blazing from every unused room and flooding our porches, yards, and streets. The cheery spring blooms on the trees lining our streets belied the dread lurking inside our homes. Unlike the previous unfortunate inhabitants of those dim crumbling slums, we were upscale captives quivering behind our fresh facades; afraid to go out, afraid of the day, and petrified of the night. We no longer took evening strolls stopping to chat with neighbors. We walked our children to and from school in packs. Dogs were pushed out back doors to do their business and then hurriedly beckoned back inside. This was our self-imposed, twenty-four hour curfewed existence; frightened one of us would be next.